KAD carbon monoxide alarm/alarm systems with CE EN
2016-03-30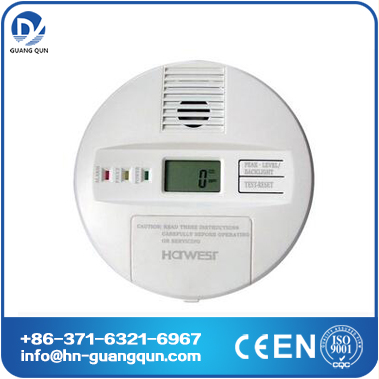 1.Technical Parameter of KAD Carbon Monoxide Alarm
Working power: DC3V(2AA battery)
Working time: >12 months
Detecting gas: Carbon Monoxide
Working condition: Temp: -10℃ ~ 50℃,
Humidity: ≤95%RH
Working method: natural diffusion
Alarming method: visual and audible
Sound level: 85 dB
Life: >5 years
2.Features of KAD Carbon Monoxide Alarm
Comply with BSI EN50291
Battery-opearated CO Alarm
High quality electrochemical Sensor
Multi-installation type
MCU control
Peak value memory
LCD display
3.Product Description of KAD Carbon Monoxide Alarm
KAD carbon monoxide gas detector adopts high quality electrochemical gas sensor and advanced technology. It has good stability and long life span. The installation method can be tap-top, ceiling hung and wall mounted. When the CO concentration in the air reaches the presetting alarming level, the detector will give audio and video alarming promptly to inform the user to adopt measurement to avoid the fire, explosion etc. dangerous accidents.
4.Applications of KAD Carbon Monoxide Alarm
The KAD carbon monoxide gas detector provides you and your family with a loud warning signal against the dangers of elevated carbon monoxide levels in your home.
5.Our Competitive Advantages
(1)Certificates CE EN
(2)More than 10 years export experience
(3)5% lower prices than other competitors
(4)Fast delivery Parts of products are available in stock and can send within 3 working days
(5)After-sales Service
All the products have 1 year warranty, and It will be free from maintenance within warranty period, products over warranty period for paid services.