KAB combustible gas alarm/combustible gas detector alarm with CE EN
2016-03-30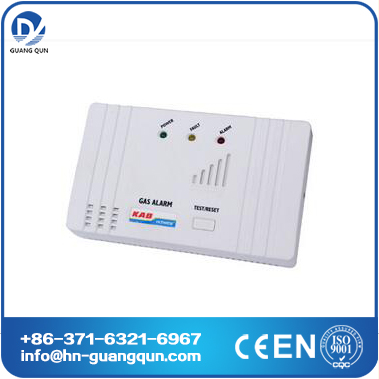 1.Technical Parameter of KAB Combustible Gas Alarm
Working voltage: AC220V±15%/ AC110V±15% 50Hz~60Hz
Detecting gas: LPG, natural gas
Consumption: ≤3W
Working condition: Temperature: 0oC-55oC
Humidity: <95%RH
Response time: ≤30s
Gas sampling: Natural diffusion
Alarming level: 10%LEL
2.Features of KAB Combustible Gas Alarm
TUV EN50194 Approval
High quality catalytic sensor
Optional relay or valve output
3.Product Description of KAB Combustible Gas Alarm
KAB gas alarm adopts high-quality gas sensor with advanced technology and superior craft. It provides visual and audible signals when the gas concentration, such as LPG, natural gas, coal gas etc., reaches the preset level. It reminds you to take prompt favorable action. You may start up other link equipment, like opening windows or shutting off gas supply, to avoid fire, explosion, suffocation, and other malignant accidents.
4.Applications of KAB Combustible Gas Alarm
The KAB gas alarm is designed to detect the concentration of combustible gas in your home.
5.Our Competitive Advantages
(1)Certificates CE EN
(2)More than 10 years export experience
(3)5% lower prices than other competitors
(4)Fast delivery Parts of products are available in stock and can send within 3 working days
(5)After-sales Service
All the products have 1 year warranty, and It will be free from maintenance within warranty period, products over warranty period for paid services.