MS7100C Cotton Moisture Meter can test cotton lint,cotton seed
2016-04-25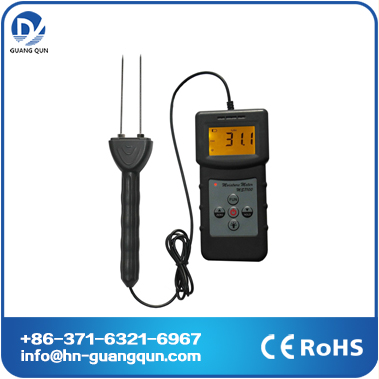 1.Technical Parameter of cotton Moisture Meter
Display:4 digital LCD
Measuring range :5%-40%
Temperature:0-60
Humidity:5%-90%
Resolusion:0.1
Accuracy: ± 0.5%n
Operation: Electrical Resistance Method, Automatic temperature Compensation
Power supply: 4x1.5 AAA size (UM-4) battery
Dimensions:
Main Unit:140mm×60mm×22mm
Probe:72mm×40mm×20mm
Pin :80mm
Weight:195g (not including batteries)
Guarantee:1 year
2.Main Features of cotton Moisture Meter
(1)It is portable, compact, easy to use and the moisture measurement readings are instant.
(2)Digital display with back light gives exact and clearly reading although you stay at the somber conditions.
(3)It will save time and expense by monitoring dryness and helps to prevent deterioration & decay caused by moisture whilst in storage, therefore processing will be more convenient and efficient.
(4)The moisture meter operates by electrical resistance and has automatic temperature compensation.
(5)Manual off at any time .Auto power off after 5 minutes from last operation.
(6)Data hold function.Low battery alert.

3.Descriptin of cotton Moisture Meter
The Cotton Moisture Meter is a valuable testing instrument during the cotton collection,processing and when buying or selling cotton.The newly designed MS7100C utilizes the relationship between moisture content and electrical resistance to effectively measure the moisture content of cotton,seed-cotton bale and lint quickly and accurately.
4.Our company advantage
(1)CE,ROHS Certificate.
(2)More than 12 years exporting experience.
(3)Strong R&D technical Team with skilled experts.
(4)Higher Quality than other competitors.
(5)Can do OEM Production.