MD - Molecule distillation units/Fractional distillation equipment with /Asphalt,Product of chemical reaction
2016-03-29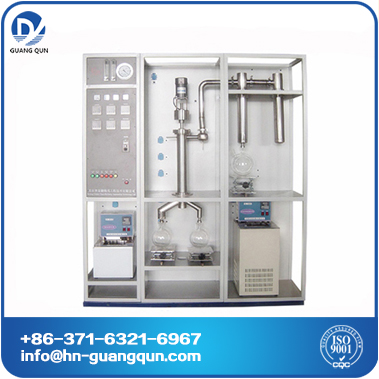 Molecule Distillation Units
Parameter:
1.Brand No.:MD Series
2.Handling Capacity:50-2000ml/h
3.The Lowest Distillate Pressure:10-2 bar
4.The highest TEMP of the evaporator face:300℃
5.Paint Film Type:Strike-off Board/Expansion Cylinder
6.Condenser TEMP: -5~200℃
7.Temperature Measurement Accuracy:±0.1℃
8.Rotating Speed: 100~600r/min
Molecule Distillation Units
Features:
2.Reach The National technical standards
4.Full-automatic operation
5.Good-looking appearance
Molecule Distillation Units
Description:
The instrument is used in petrochemical and pharmaceutical field .It's new designed features with high automatic all evel and high operating accuracy.It's the best choice within the similar products.
Introduction about our factory: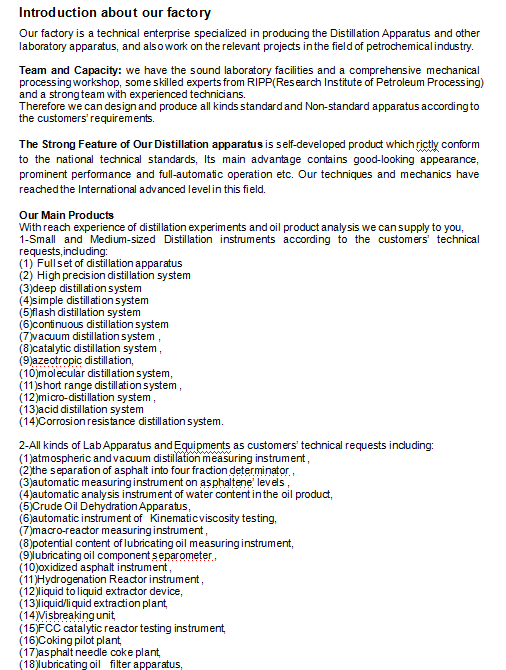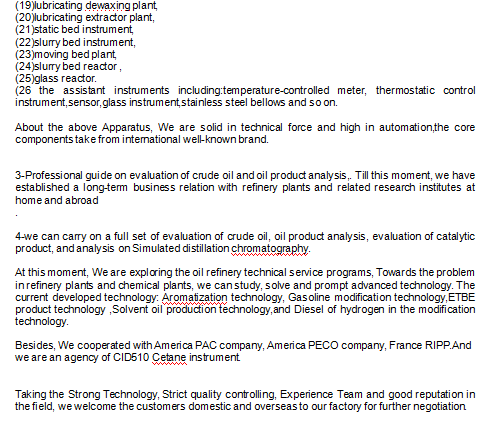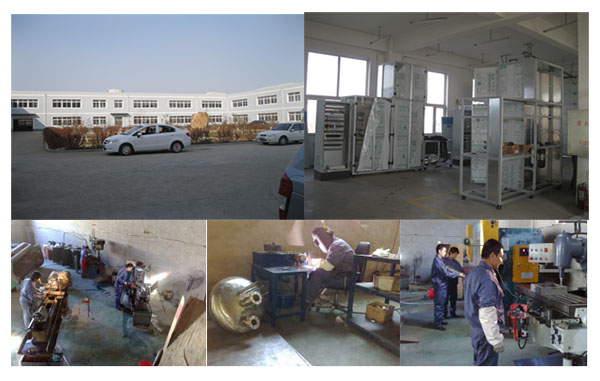 Why choose Us?
Our Competitive Advantage:
1.More than 10 years of Exporting experience
2.Our products are Self-developed and can reach Intl Standard
3.Strong technical Team with skilled experts from RIPP, and we can provide professional Guide on Crude Oil Evaluation and oil product analysis
4.Competitive Price In Intl Market
5.Experienced Engineer for oversea installation